As teachers, we are always looking for new things for our classroom. Whether our district will pay for it or it comes out of our own pockets, we are constantly searching for the next greatest thing to help our students or even just us be more productive and have a better classroom experience, including classroom organization ideas.
Hopefully, you have seen our other post at some point, 10 Teacher Supplies You Need, which are all supplies that easily morph your classroom into a student-centered abyss. However, below I would like to present you with 5 AMAZING teacher organizational tools that will make your life so much easier and your classroom so much more organized!

(This post may contain affiliate links that won't change your price but will share some commission. As an Amazon Associate, I earn from qualifying purchases. Please read our disclosure policy for more information.)
Dry erase packets rock my world….and are a complete no-brainer! These guys save on copies and thus, save on trees. Sometimes you have activities that use a printout, but it isn't something that necessarily needs to be saved, collected, etc. These little packets are PERFECT for that. You just slip a paper in and give each student a dry erase marker…POOF! Reusable. You can also use these in place of small whiteboards for trivia type games, etc. The possibilities are really endless and are well worth it. Find them here (ad).
---
Classroom Organization Tool #4: Straw Dispenser….I mean…PENCIL dispenser
I saw this idea once and my jaw fell to the floor. Another one of those, "Why didn't I think of that?!" moments. I have a desk set up in my classroom that has anything my students may need….pencils, tissues, lint roller, you name it. I had the pencils in a large pencil cup, but then I saw this idea and it's perfect! There are so many different types of straw dispensers out there, but I like this kind the best because it just drops one at a time. It will keep your pencils nice and tidy since it just dispenses them one by one. This takes away from the "search for the perfect pencil" time suck that I was finding when the students could just pick one out. Plus, let's be honest, it looks cool and was much cheaper than the option I REALLY wanted:
(But let's be honest….this is pretty cool!)
You can find the red option above here (ad).
If your students are anything like mine, they like to see what is coming up. They like to see what they missed. Of course, they want to see excitement, too (birthday, assemblies, etc.) Enter this calendar. It is large enough that it can be visible from a distance. The nice part about this is it comes with a ton of different tools to use with it (tacks, markers, etc.) so they can be designated for the calendar only.
You can have a student who is in charge of amending or give them free rein to add relevant information. It's also a great way to post due dates and if you're a promoter of student choice, it's easy to have conversations about fluid due dates when everyone can see the came calendar at once. Another game-changer. You can find it here (ad).
---
Classroom Organizational Tool #2: Caddies…not just for the dorm shower!
I remember having a version of this in college that I carted back and forth from the showers. It carried my shampoo, soap, etc. Fast forward [number left out on purpose] years and WHO KNEW there was such an awesome use for these in the classroom?!
These caddies can function however you see necessary. They can hold art supplies, make "all you need" stations for a table. Again, just another "ah-ha!" way to keep you and your students organized. When they're done using whatever goes in them, it's easy enough to just drop them in and be done with them. Such a fantastic idea. You can find them here (ad).
---
If your whiteboards are anything like mine, they don't look the same from day-to-day. This makes it difficult when you want to keep things separated without it looking like a hot mess. Below are just some examples of how my boards transform on the regular: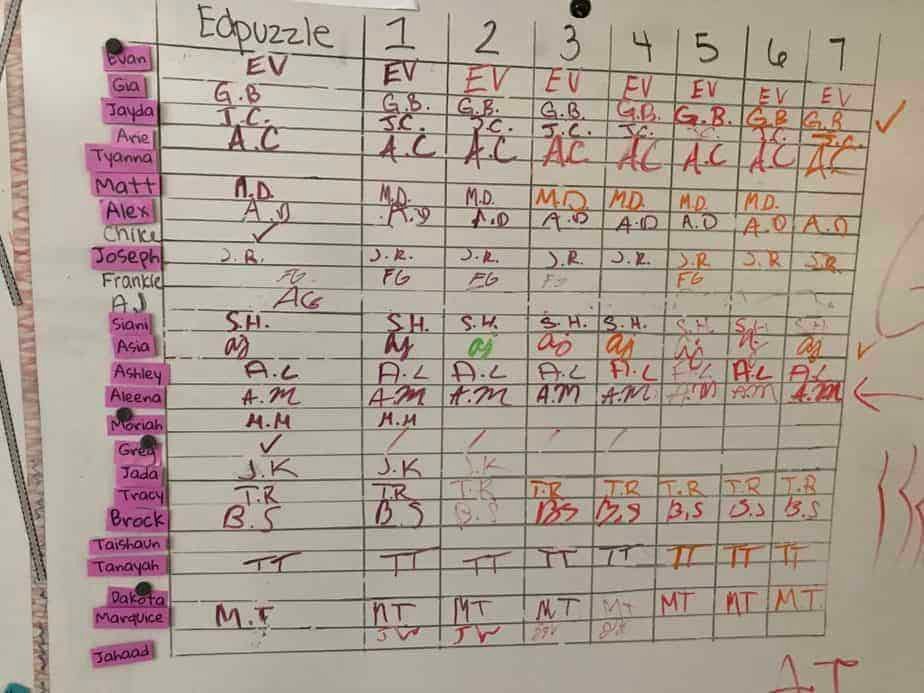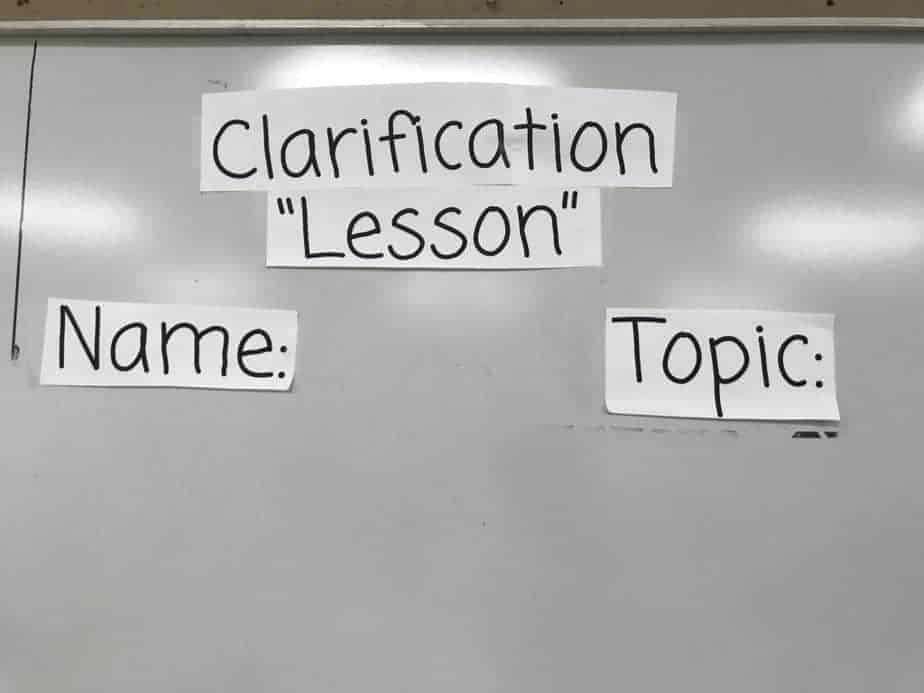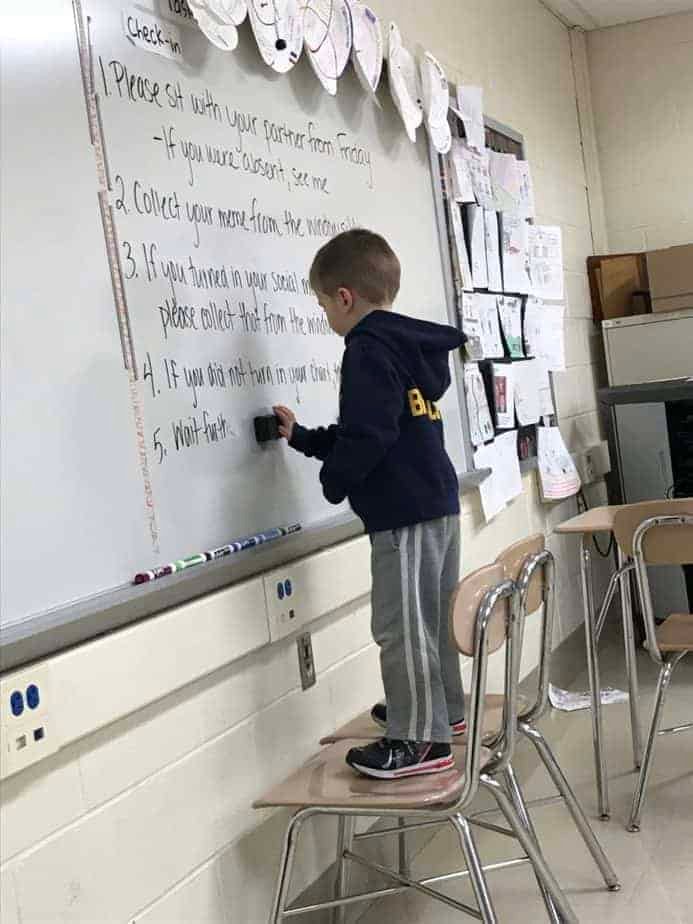 You can see that no two days look alike. You can also see how I make my best attempts to divide up the board. I've used masking tape (the board gets gummy after a while), a yardstick and a dry erase marker (a student will inevitably bump into this and erase something), and even hanging up typed labels to try and make sections (you can't edit these as you go, obviously). THEN I discovered magnetic borders!
Whoever came up with this idea was pure genius. You can create any type of division that works for you as easy as moving around a few magnets. If you're someone who divvies up your board, these are an absolute must-have.
You can create any number of divisions on your whiteboard. You can also add an extra student-centered element and give your students this task when presenting or using the whiteboard for an activity. They like anything that gives them a little autonomy that everyone else will be taking a look at (and a little flair never hurt). Find them here (ad).
These by FAR are not the only organizational tools out there. A quick scan of Amazon alone will bring up dozens of "why didn't I think of that?!" items. It is important that we are able to keep ourselves as stress-free as possible to keep us in a positive frame of mind.
Having a few of these items to help keep your classroom organized and tidy might make all the difference in the world. The best part about all of them is that they are an easy investment that you can use over and over, year after year, even as your styles and lessons change. Thanks for reading!