Click above to listen to this podcast episode. Below is the transcript for Student-Centered World Podcast Episode 25: "Making a Lesson Fully Digital"
Hey, everyone, and welcome to the Student-Centered World Podcast. I am hoping that today's podcast is a moment of "whoosah" for you if you will. So, a lot of the teachers that I have been talking to have been saying that they are beyond frustrated and exhausted because their schools or their districts keep changing the rules as they're playing the game and they're stuck on how to make digital lesson plans that actually work.
So, how a lot of schools started, the school year has changed. Some districts had said that things are going to be one way and then abruptly change to something else. There are kids coming and going depending on what the protocols are for your school and it's throwing everybody for a loop. So, this past summer, I had done a series on how to do blended learning.
One of the things that I preached over and over during that series was that if you prepare for a blended learning classroom environment, then it doesn't matter if your school is online. It doesn't matter if you're a hybrid or if you are 100% in the classroom. The lesson plan that you create for a hybrid learning environment will work for all three of those situations.
So, we're getting into a time now that things are changing, we haven't really settled into what the new normal is yet and we still need to be prepared at a moment's notice for things to change again. So, what I wanted to talk about a little bit today is the concept of how to create digital lesson plans that prepare for all of the scenarios.
So, everybody, I don't want to say got into a negative groove because most people finally found something that was working in some fashion and was running with it. But then when things change, they're starting over from scratch again. If you can plan moving forward with a blended model and digital lesson plans in mind you will be able to successfully teach in every single environment.
That could change, you go home one night, and you find out the next day, it's different, or hey, in two weeks, we're switching or whatever comes your way. So, I wanted to take some time right now, to give you some food for thought to think about how you can do that moving forward with digital lesson plans, and that way at least until everything does move to the new normal you have a plan in place for no matter what comes your way.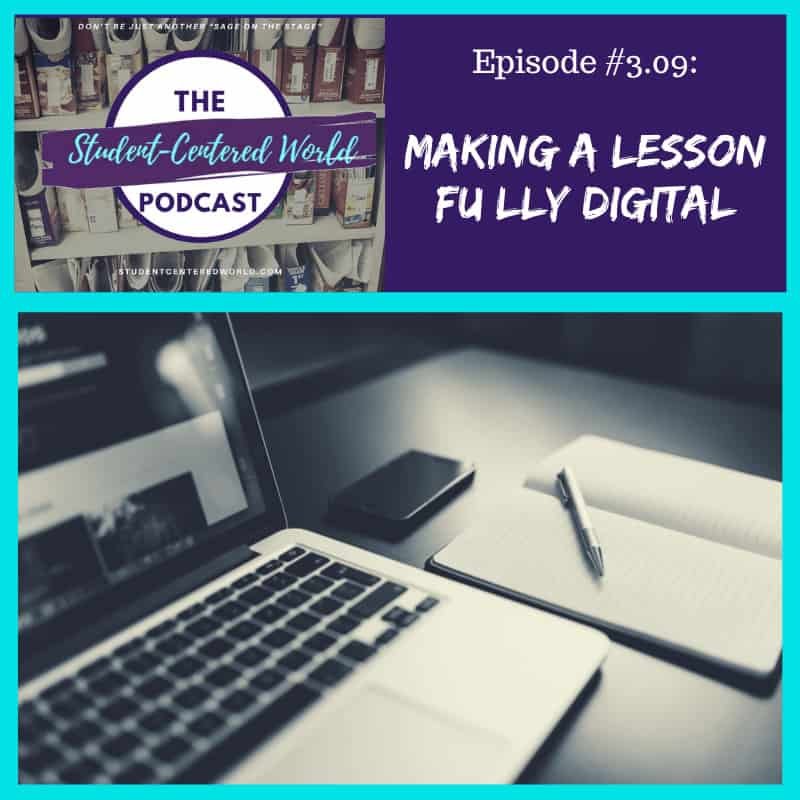 Welcome to the Student-Centered World podcast where we talk about all things hands-on teaching and keeping your energy and sanity in the classroom. This teacher turned consultant is making it her mission to help as many teachers as possible become the best version of themselves and keep their passion for teaching on fire. It's her hope that we never forget why we desire to have a passion for educational progress. This is Student-Centered World, and this is Jenn Breisacher.
Why Digital Lesson Plans Make Sense
The key to digital lesson planning is to make it where the lesson can be completed virtually, in person, or a mixture of both, depending on the execution. Digital lesson plans don't need to be complex or hard to put together. You can start with a simple lesson plan and add to it.
What are digital lesson plans? They're lessons that can be completed through the use of technology. An example is to have students complete an online worksheet, instead of printing one out; or even more simply, having them read a paragraph off of their phones or tablets (which could potentially save paper). It all kind of depends on what's comfortable for you and your students.
The idea behind digital lesson plans is to cut down on costs (cost of paper, printing costs, cost of storing all the worksheets/stuff you'll need), save time (cutting out the process of having to print up something they can already access online), and most importantly, help our environment by not using as much paper.
However, given the uncertainty from one day to the next in our classrooms, preparing our lessons in this model will make your life much, much easier.
Prepping For Blended Learning is Key
What I wanted to touch on today, as I've said now if you had $1 for every time I said it, you would have to worry about school this year, but blended learning is the only model that you can do 100% in the classroom hybrid or distance. So, who knows what's going to happen but if you're planning out a got the wheels turning about what you can do for that outside of the classroom experience, then take the in-class experience but figure out how you can be doing it digitally as well with digital lesson plans.
So, some of the things that I had mentioned before, is it something that you could have a whole group discussion or a debate or some type of a simulation or whatever on Zoom or Google Meets? Can you create breakout rooms where the kids have to go and solve whatever based on the information that was brought in, etc? Can you create escape rooms? You can do them in the breakout rooms, but if you make an escape room assignment, they're very, very popular, very trendy right now with digital lesson plans.
If you go on Teachers Pay Teacher's or Pinterest or anything you'll see a bazillion things come up, or you can make your own. I've made them in Google Forms before and that's really fun. Again, they can work on them in the digital groups, no issue. Can you create a scavenger hunt? Can you create real-life experiences within their house?
So, we just learn about this concept. Go around your house try to find something and then bring it and everybody can present what they found or if you're doing measurements can you cook something with measurements and record yourself. You could do a flip grid, you can just record on your phone, you can add it in, share it, screen share, there's a lot of different options like that and we're very much thinking outside of the box with these digital lesson plans.
So again, I keep talking about mindset shifts, especially with digital lesson plans. Perfect example, you now have at your disposal all these ideas and it might seem overwhelming but stop and break them down, mind map a little bit. You can take a piece of paper and just start drawing ideas and figures and arrows. It doesn't have to be pretty.
I learned once that if you take different Post-It notes, I have a wall. I'll take different Post-It notes and as I have ideas that kind of flow write things down and it might be color-coded by markers or the Post-It notes themselves just to try to map out what I have going on in my head to piece it together and then go from there.
You have a lot of ideas at your disposal. When you're coming up with this stuff to do in the classroom, even if you come up with these ideas like I was just talking about, that's all stuff that you could still do in the classroom with digital lesson plans. You can do it digitally or you can do it in the classroom. That's the beauty of preparing in this way.
So, you just want to make sure that you are coming up with lesson plans in all of this that no matter what suddenly switches, it's not hard for you to make that transition. I had mentioned before that a lot of the teachers that I had worked with pre-pandemic said that once they went the distance, it wasn't that hard. Everybody did distance learning in the spring.
So, it's not like this is brand new. Everybody has done it before and everybody…kids, parents, teachers will be more prepared for it, have a little bit more time to digest it, and sort of know how things work. You're not learning all of it at once unless you teach kindergarten and then everything is a big learning curve anyway, for sure.
But sit on that for a little while. If you need to start mapping out your thoughts, make sure that you do that. But if you have questions or comments or concerns, let me know. Happy to help happy to do whatever I can. That's why I'm doing this, to begin with.
So as always, you can find me on Instagram or Facebook at Student-Centered World. You can send me an email at admin@studentcenteredworld.com.
So, I hope to connect with you through one of those avenues and I hope that you are going to have yourself a wonderful week.
Digital Lesson Plans and the 4 Keys
Finding a way to make digital lesson plans that will work for your students (and you) isn't difficult, it just needs to ebb and flow with the students and where they are (physically, mentally, and emotionally). Being flexible is the key to making all of this work. The key is engagement. There are four keys to student engagement that I discuss in my video training challenge called "Finding Your Student Engagement Formula" and it walks you through those four keys and how to implement them in the classroom.
If you are interested in registering (it's totally free), visit the Finding Your Student Engagement Formula Challenge registration page and you will be notified the next time the series is available.