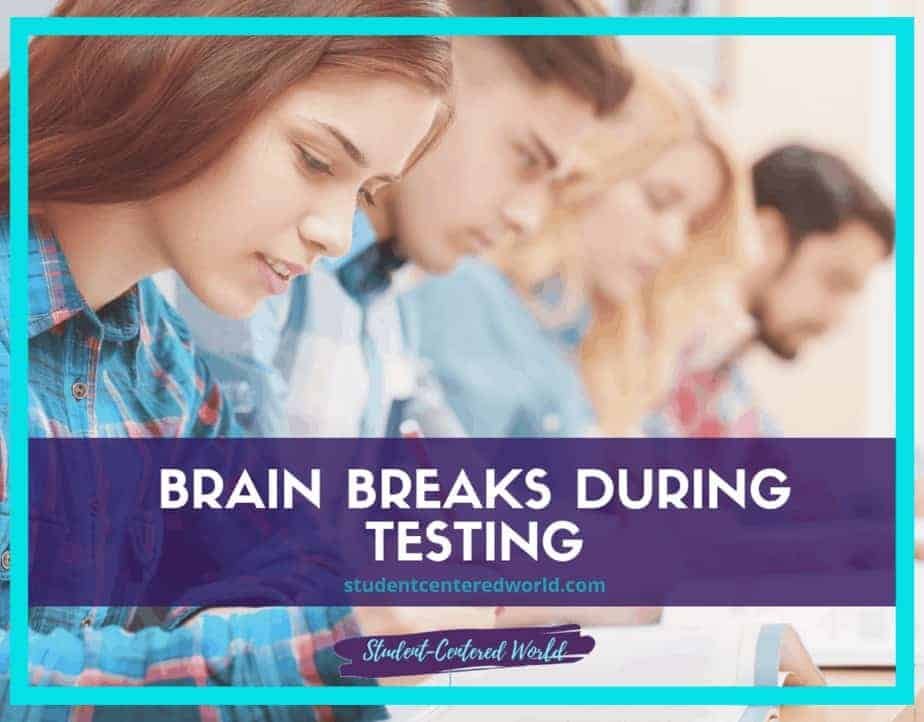 Over the past few years, "testing" has become a bit of a dirty word in education. What used to be for placement or just checking to make sure students were hitting certain benchmarks has become an orchestrated production. Different states have different requirements, but the sheer volume of testing has increased greatly.
These tests can be extremely stressful for both student and teacher as many of them no longer are just to see where a student stands in their educational progress, but have real negative ramifications if the scores are not within a certain value.
While certain methods, like student-centered instruction, help overall with testing and student success, it is also really important to make sure that we are taking care of the mental health of our students while they are participating in these strenuous testing sessions.
Implementing brain breaks during testing it can make all the difference in the world when it comes to stress levels and the achievement of our students.
During testing, students find themselves sitting for long periods of time, concentrating on words on a screen or on paper. Talking is not allowed and some of the timing of these tests could be upwards of an hour and a half of straight work. As unfortunate as this is, testing has become a part of our educational system and it much like with other changes, we need to find a way to embrace the adversities and find ways to make sure that they are working in favor of our students as much as possible.
Besides preparation for these tests, there are some great break breaks during testing that can take place to help students stay refreshed and focused throughout their testing experience.
(This post may contain affiliate links that won't change your price but will share some commission. As an Amazon Associate, I earn from qualifying purchases. Please read our disclosure policy for more information.)
How to Implement Brain Breaks During Testing
Well obviously students cannot take a brain break during a timed period of testing, The time before the activity begins and when small breaks are given can be utilized to help our students as a normal brain break called by the teacher would be.
The first recommendation is to make sure that the students have a little bit of activity before testing begins at all. This may be one collective brain break such as Simon Says or a stretching activity. It is important to try to have all students on the same page a physical activity to set a bar where they will all be starting their examination.
If possible, make sure that the students also had something to eat prior to beginning testing. This isn't necessarily a brain break per se, but it's vital to help their focus. Try to remind students to eat before they come to school or give them the opportunity to eat before the testing begins.
Many schools have breakfast provided, but even having a small batch of granola bars, bananas, or bagels available…something quick…might make all the difference in the world when it comes to a student being able to focus on the test.
If possible, another great idea is to coordinate a walk with all students who are going to be testing before school begins. It could be led by the principal, the school mascot, or whatever will pump up the children about to test.
Depending on the time of year, a great option is to walk around the outside of your school once to get some fresh air or even to take a few laps around the gymnasium. it also helps develop a sense of community and is a great way to have a pseudo pep rally preparing these children for the tests that they will be taking.
Generally, in the testing proctor script, it does give a short break in between segments for a stretch that includes no talking. This is a great place to implement a brain break such as yoga, or something where it silently the students can follow the lead of a teacher.
Again you want to make sure that it is an activity that allows the oxygen to flow to the brain and the blood to pump as well. This can be in absolute silence, but I would suggest practicing with your students before the actual day of the test just so they understand what they are doing. The last thing you want is trying to keep things silent and students feeling the need to ask questions because they are not sure what it is that they're doing..or even worse, staying silent but getting frustrated because they don't understand what they're supposed to be doing even though the activity is supposed to be helping them stay calm and focused.
Something else that could help particularly fidgety students is giving them something that they can manipulate in their hands or their feet while they are testing. This can be as simple as giving them a small Koosh ball to roll between their fingers as they are reading and answering their questions, or using fidget bands on their chair to give them something to pump with their feet. (ad)
These may not specifically be brain breaks during testing, but it does give them an avenue to help focus when their brain is having trouble doing so.
While we know testing is stressful for students, teachers, and administration alike, there are certainly ways to make the best of the situation and keeping the energy high and the focus strong with our test takers.
This is especially important if students are used to having options like flexible seating or regular brain breaks in the classroom. Generally, testing is an environment that they are not used to. it is important for us to try to make the environment as welcoming and familiar as possible for these students. If we show that we are stressed and concerned, that will trickle right down to them.
However, if we are positive in nature, showing a sense of calm and confidence, and are trying to keep things as normal as possible (like doing something on your brain breaks during testing), it will be less stressful for everybody involved and our students will perform better on their tests.
High-stakes testing may or may not be going away, but we can do what we can to adapt to the system that our students are a part of and will remember for the rest of their lives.