Throughout our series, The Ultimate Guide to Brain Break Activities, there has been one consistent in every post. Every time we find a video that is applicable to that particular topic, it comes from YouTube. It's no surprise that most of our video knowledge base from today comes from YouTube.
As a matter of fact, YouTube is how most people, especially our students in the classroom, are learning things on their own. It is turning into not just a source of entertainment, but a well-versed search engine as well. When it comes to this particular topic, there really is no other quick outlet like YouTube brain breaks.
The great thing about YouTube is there is a seemingly infinite number of video and music options for whatever topic you are trying to find. YouTube brain breaks are no different. By just switching up your keywords a little bit, you find personalized options for exactly what you are looking for in your classroom.
If you're looking for energizing brain break, there's a video for that. If you're looking for a calming brain break, there's a video for that. If you're looking for something specific to a grade level, there's a video for that. As a teacher when you are looking for a way to incorporate movement and activity by a video in your classroom when your students need a brain break, you literally don't need to look further than YouTube.
(This post may contain affiliate links that won't change your price but will share some commission. As an Amazon Associate, I earn from qualifying purchases. Please read our disclosure policy for more information.)
Granted, it is always important to have some type of back-up plan. Technology fails, the internet goes down, and sometimes our plan to jump on YouTube quickly is no longer an option.
As a backup, it's not a bad idea to have something in your toolbox such as Brain Break Bingo or a book like Energizing Brain Breaks + Engaging Teaching Tools (ad). However, heading a readily available playlist of YouTube brain breaks is certainly a way to stay organized and planned ahead with these short moments of movement in your classroom.
Using YouTube Brain Breaks in the Classroom
I typed in some common brain break keywords in the YouTube search bar and the pure number of results for each one was absolutely mind-blowing. Though they weren't all perfect for my needs, I certainly had many to choose from.
This is a wonderful part of YouTube. You can tweak what you're looking for to make it as specific as your needs require, and videos that are applicable will in fact pop right up.
As I mentioned before, I would go through these before you actually plan on using them and create a playlist so they are ready at a moment's notice. You can make a different playlist for different types of brain breaks, different levels of students, or even by class.
You can also make just one master playlist. It's really a matter of finding what will work best for your planning purposes.
Making a playlist on YouTube is simple. After finding a video you would like to add to a playlist, you will go underneath it and click where it says save. if you have not yet created a playlist you will click where it says, "create new playlist".
Obviously, if you already have a playlist created and would like to add it to that one, go ahead and click on that particular playlist.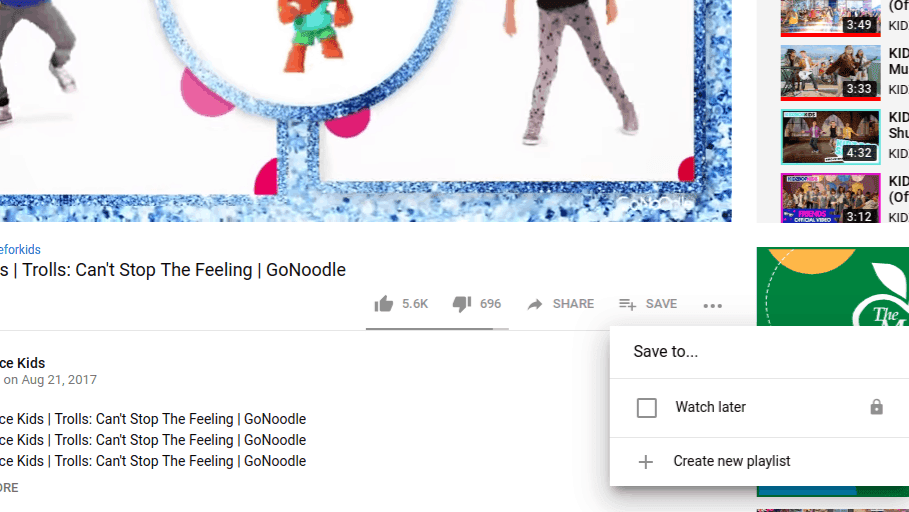 When creating playlist options, consider what you want your privacy settings to be. If you make it public then anybody can listen to that particular playlist.
If you want it to be very specific to your classroom and not accessible by others, you can make it private. You can also have it as unlisted if you want to perhaps share with colleagues but do not want others to have access. Just make sure you consider what will work best for what you are looking for.
Name it appropriately, and hit create. You can add whatever videos that fall under that playlist together.
When you want to utilize that playlist (or playlists), you will click on Library and if you scroll down a little bit, you will see your playlist(s) listed.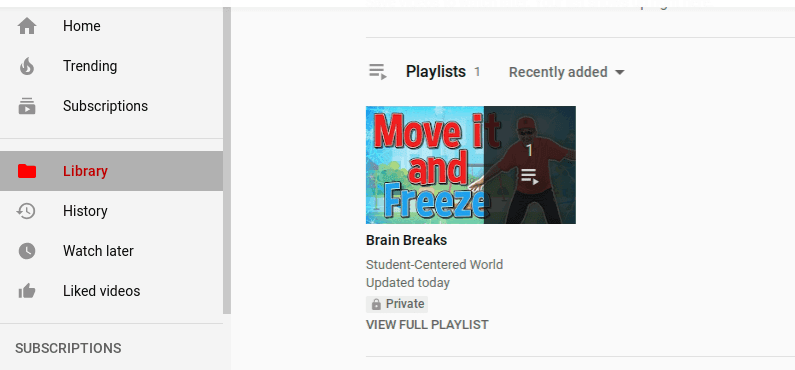 Another option is to have students create their own playlist. once they do that, they can share them with you. You can pick and choose from their videos to add to your own playlist, or you can create an option to pick from various students playlist for when you decide they need time for YouTube brain breaks.
This can be done in a number of ways. It can be a reward for students to have their playlist picked, it could be at random when the class, in general, is achieving a goal, or I can be a complete surprise to them. Only you know it will work best in your classroom and have the most student buy-in.
YouTube is a great resource for so many things in this day in age, but truly YouTube Brain Breaks can't be beaten. There's something there for every age level, every preference, and every type of brain break necessary. As we've mentioned, a brain break allows increased blood flow and oxygen to the brain, which helps energize or relax the students in your classroom.
Students today are not physically able to sit and concentrate like previous generations have been able to. Unfortunately, we are finding that technology is both a blessing and a curse because, with the ever-increasing amount of screens in our lives, our students are not gaining the physical strength that allows them to physically sit still.
While this fact in and of itself is eye-opening, it is not something that we will be able to change overnight. However, we can take it into consideration in our classrooms when we are deciding how to proceed with our students. If it seems like they're fidgeting, or need a little boost of energy, a quick 3 or 4-minute brain break is certainly a way to get them back on the same level playing field that they need to be on.
Creating a YouTube playlist and having them at the ready whenever necessary is certainly one of the best ways to be able to do this at a moment's notice.